Green Baby Gifts
Shop green and eco-friendly gifts for the baby, infant or toddler in your life. This list will be updated periodically, but if you notice any errors or know of a gift that belongs on this list, e-mail Green Promise at resources@greenpromise.com. Shop responsibly!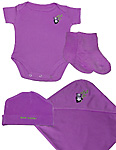 Baby Bambu Complete Gift Set

$56
The 'Complete Gift Set' is the perfect gift. Set includes: cuddly hooded blanket, Onesie, Silky baby cap, One pair of bamboo baby socks. Organic.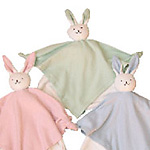 Bunny Blanket Friend

$15
This security blanket friend is ideal for little ones to snuggle and play with! Little knots allow for children to teeth and the friendly bunny face is for added comfort. Made with the finest 100% Organic Egyptian Cotton. Product is machine washable.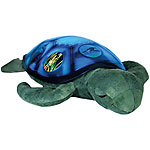 Cloud b Twilight Sea Turtle

$34.95
Twilight Sea Turtle helps children sleep easier and makes bedtime fun by projecting a starry night ski on the ceiling. This interactive nightlight illuminates three magical colors and five sea animals. Allows your child to pick a different color and animal each night! Make the perfect sleep companion for children of all ages! Each illuminated image on the shell is of a endangered water life animal. It is serves as an educational tool by teaching the constellations as well as bringing awareness to endangered water life. The life size Twilight Sea Turtle is 14 inches head to tail and stands 5 inches high. This wonderful interactive nightlight also includes a battery saving time out function, push button reactivation, easy color selection, and 3 AAA batteries.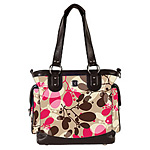 Fleurville Lexie Tote Diaper Bag in Khaki Berry Ogo

$149.95
This is an absolutely gorgeous tote. Hi glam for those new moms! Constructed from PVC-Free Green-LAM with custom hardware, "leather" trim, a seam sealed, water-proof lining, multiple pockets and comes complete with our new universal stroller attachment, the Slip Not.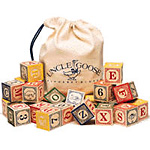 Natural Wooden ABC Blocks

$42
Alphabet Blocks are a generous 1 3/4" square, made from basswood, brightly colored with child-safe inks, and handcrafted with attention to detail. The standard set includes 27 blocks providing 4 complete alphabets, 3 sets of numerals, and 27 different animal pictures.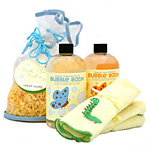 Organic Bathtime Basics Gift Pack by Little Twig

$38.95
Bath Time Basics Gift Pack by Little Twig has two unique blends of bubbly fun plus a plush washcloth sporting our wiggly caterpillar. Your loving hands provide the gentle nurturing; their organic formula provides healthy nutrients. Start baby off right with extra gentle organic baby skin care.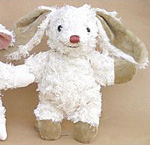 Organic Bunny Music Box

$65
This soft bunny music box is sure to help a little one sleep soundly. Made with 100% organic cotton. Filled with pure wool. Pull the cord and music box gently plays an old lullaby.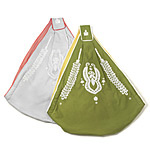 Organic Cotton Baby Sling


$129
Keep baby snug and mom stylish with these beautiful hand-embroidered organic cotton baby slings. A super-soft brushed interior is gentle against baby's delicate skin and the simplified design -- one seamless piece of fabric without buckles, belts or straps -- is snug, sleek and easy to wear. Not to mention, they come in gorgeous colors: grass with marigold interior and cloud with pink petal interior. Handmade of 100% organic cotton in India.


Sign up to receive our eco-friendly newsletter with tips and resources for a healthy home and sustainable environment.