Green Magazines
Shop magazines about green and sustainable living for your friends and family. This list will be updated periodically, but if you notice any errors or know of a gift that belongs on this list, e-mail Green Promise at resources@greenpromise.com. Shop responsibly!

E/The Environmental Magazine

$14.95 (digital) or $19.95 (print) for 1 year (6 issues)
E - The Environmental Magazine is a bimonthly "clearinghouse" of information, news and resources for people concerned about the environment who want to know "What can I do?" to make a difference.

E covers everything environmental--from recycling to rainforests, and from the global village to our own backyards. E reports on all the key and emerging issues, always providing contact information so readers can research topics further or get involved in activist efforts. E also follows the activities and campaigns of a broad spectrum of environmental organizations.

E is also loaded with practical information on a range of lifestyle topics, including: environmental health issues; food safety; green house & home topics; personal finance "with a green conscience"; consumer product trends; reviews of books, products and services; and eco-travel.

E has drawn considerable recognition for its style and content, and has won numerous awards for editorial excellence and for covering issues "overlooked or under-reported by the mainstream media".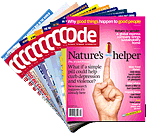 Ode Magazine

$29.95 for 10 issues (1 year)
Ode brings you a world of inspiration and hope, reporting on meaningful stories of people, culture, environment, integral science & health, forward-looking politics, responsible business, and much more.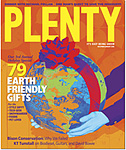 Plenty Magazine Subscription

$12 per year (6 issues)
Plenty is an environmental media company dedicated to exploring and giving voice to the green revolution that will define the 21st Century. Our lives are getting greener -- and Plenty is here to document it. Plenty (as you may have guessed) is also about abundance. They want to see the world move away from fossil-fuel dependence and toward the bounty of green energy sources here on earth, like wind and solar power. And they believe that sustainable living doesn't have to be Spartan living -- hence their motto: it's easy being green. They also practice what they preach. Plenty offers a digital version of the magazine. Their paper is 85-100% recycled and contains 20-30% post-consumer material. They also offset their carbon footprint (the energy used to print the magazine and run their offices) with Green Mountain Energy. Their website is carbon neutral as well.


Sign up to receive our eco-friendly newsletter with tips and resources for a healthy home and sustainable environment.