Green Clothing
Shop green and eco-friendly clothing that would make great gifts for your friends and family. This list will be updated periodically, but if you notice any errors or know of a gift that belongs on this list, e-mail Green Promise at resources@greenpromise.com. Shop responsibly!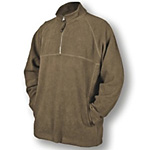 Ecolution Men's Sherpa Fleece Jacket

$64
The 100% organic cotton shepherd fleece is soft, cozy, and pure. The Organic Cotton Fleece Zippered Pullover is a sweater, a jacket, and a pullover, all rolled into one; it is made in sweatshop-free conditions under strict monitoring by Ecolution. The lush fabric possesses a wool-like softness but without the itchiness or the actual wool. Choice of Indigo (dark blue) or Taupe (shown).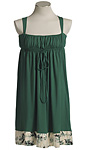 Empire Tank Dress Green/Bamboo

$100
Way beyond basic, this classic green tank dress has a little surprise at the hem—a soft band of silk with a bamboo grove print. An empire waist with self-fabric ties at back and tapered straps add to its charms. Earth-friendly bamboo jersey makes it a sensible choice for an eco-fashionista. Made in NYC in a fair trade environment.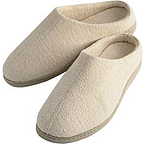 Organic Cotton and Hemp Eco Mule Slipper


$48
Pamper your feet -- and the planet. Sustainable organic cotton and hemp mean these slippers are earth-friendly, and a cozy terrycloth feel makes them a spa-worthy treat. CFC-free molded footbed inside. Skid-resistant, weatherproof outsole. 55% hemp/45% organic cotton. Machine wash. Women's S (5-6), M (6-1/2-7-1/2), L (8-9) or XL (9-1/2-11). Imported. A Gaiam exclusive.


Organic Cotton Ribbed Sweater


$60
Fitted yet forgiving with a mid-hip length, this sweater is perfect with a skirt or comfortable with jeans and is indispensable any time of year. Low eco-impact dyed in garnet, natural, emerald, copper or black. Machine wash.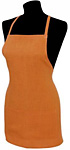 Organic Hemp Apron

$24.50
This sweatshop-free product is designed and manufactured by Ecolution using locally grown organic hemp. Ecolution is based in the democratic country Romania, where it owns its own organic hemp fields and processing facility, which operate under fair trade no-sweatshop guidelines. The employees that made this product are paid more than the Romanian average, are given opportunities for advancement within the company, receive medical and pension coverage, and work in a facility that is safe, well-lit, heated, and free of toxic chemicals. Ecolution does not employ children. In addition to showing utmost concern for its workers, Ecolution products are 100% vegan, containing no products from animal exploitation such as leather or wool.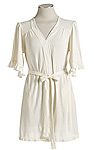 Pointelle Robe

$99.95
Sometimes a girl wants something comfy and flirty, fun and functional. This robe does the trick. Made of a flowy, lightweight organic cotton with a pretty pointelle pattern, the robe also features ruffled sleeves and gathered detailing on the front. One size fits most. Ivory.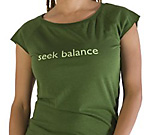 'Seek Balance' Bamboo Tee

$32
Sustainable tees on a mission. 70% bamboo/30% organic cotton, super soft and stretchy, raglan sleeves for a more youthful look and fit.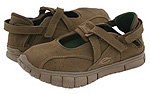 Zappos Earth Shoes

Price: varies
Imagine a shoe so different it changes how you think about footwear -- and exercise. Earth shoes Kals Negative Heel Technology shifts your weight back, helping you burn calories while strengthening and toning your body. It s a part of every Earth shoe design, and part of being good to your whole self. Earth shoes Kals Negative Heel Technology also includes a unique design that positions your toes higher than your heels. A slight incline of 3.7 is complemented by support through the arch, which positions the body to trigger an array of benefits for the whole body. Earth shoes also feature a form-fitting, cushioned footbed with Gelron2000 memory gel to provide a comfortable and healthy experience. For some time, Earth clothing and shoes have incorporated environmentally-friendly practices into the production. Continuously seeking to improve on all they do, Earth was one of the first manufacturers to dedicate 100% of its line to using water-based adhesives. In addition, they have increased its use of recycled cardboard shanks and environmentally-friendly uppers. Earth continually works to pursue more sustainable product development.


Sign up to receive our eco-friendly newsletter with tips and resources for a healthy home and sustainable environment.