Green Chocolate Gifts
Shop green and eco-friendly chocolate that would make great gifts for your friends and family. This list will be updated periodically, but if you notice any errors or know of a gift that belongs on this list, e-mail Green Promise at resources@greenpromise.com. Shop responsibly!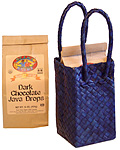 Chocolate Covered Espresso Beans

$10 - $48
Guatemalan and Mexican coffee beans sensuously surrounded by dark chocolate. Each coffee bean is Vienna-roasted, Fair Trade, organic, shade grown, and kosher. A mouthful of 100% organic pleasure. Made by Dean's Beans, who returns half of the profits to the indigenous cooperative in Costa Rica that provides the cocoa butter. Ingredients: Organic chocolate (organic sugar, organic cocoa butter, organic whole milk, organic chocolate liquor, organic vanilla), Organic coffee, Soy lecithin as emulsifier. Choose a Native Leaf Gift Bag to give your espresso beans gift an extra kick!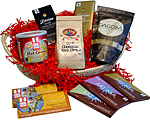 Chocolate Lover's Gift Baskets

$55 - $75
Luscious, yummy Fair Trade chocolate is dually satisfying. Not only is this chocolate some of the richest and most flavorful in the world, but knowing your purchase of Fair Trade chocolate goes to support the livelihood of cocoa farmers makes it twice as good. Comes with a natural Hand-woven Kaisa Grass Basket from Bangladesh and can include several chocolate bars, java drops, hot cocoa, chocolate gold coins depending on which basket you select.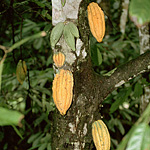 Rainforest Conservation -- Adopt a Chocolate Tree

$55
Adopt a Chocolate Tree for the Holidays! A Chocolate Tree adoption certificate makes the perfect holiday gift for that special eco-conscious friend or relative.

With a little help, chocolate may save Ecuador's rainforest. By protecting cacao trees, the region's people can earn a living by cultivating cacao and will not have to turn to logging and cattle ranching, the two biggest threats to the remaining rainforest. When you Adopt a Chocolate Tree, you receive:
A Certificate of Adoption. This certificate acknowledges your important contribution to the future of Ecuador's rainforest and the well-being of its people. The certificate is suitable for framing.
Yachana Jungle Chocolate. Along with your Certificate of Adoption, we send you two boxes of our delicious Fair Trade Yachana Jungle Chocolate.
Discounted Jungle Tours. Participants in the Adopt a Chocolate Tree program receive a 10% discount off of the regular price of Yachana Lodge tours during the one year term of the adoption.

Sign up to receive our eco-friendly newsletter with tips and resources for a healthy home and sustainable environment.