Green Bags, Purses & Totes
Shop green and eco-friendly purses, bags and totes for your friends and family. This list will be updated periodically, but if you notice any errors or know of a gift that belongs on this list, e-mail Green Promise at resources@greenpromise.com. Shop responsibly!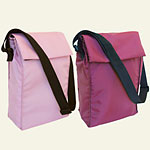 ACME Bags -- Large Insulated Lunch Bag, Pink and Berry

$10.95
High-performance insulation made from 100% recycled plastic bottles / containers helps keep heat-sensitive food cool for hours and also protects contents from getting crushed. Sophisticated two-tone color combinations feature darker interior linings that will hide the occasional stain. Each lunch bag is handmade in the USA and includes a free non-toxic, reusable ice pack. Made with 100% lead-free materials, the Large Insulated Lunch Bags are a safe alternative to vinyl lunch bags.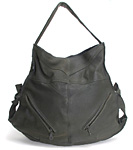 Ashley Watson Recycled Leather Bags

Price: varies
These beautiful bags are handcrafted, one-of-a-kind and use exclusively recycled material.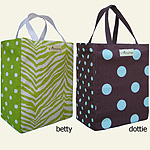 b. happy bags

$19.95
Made in the USA of durable upholstery weight cotton, these Modern Shopping Totes will help save thousands of plastic and paper grocery bags over a lifetime. Available in colorful patterns and prints sure to turn heads. Roomy design holds about the same volume as a standard paper grocery bag. Lightweight and folds down for easy storage. Handles long enough to carry over the shoulder or comfortably by hand. Bag seams are bound with grosgrain ribbon & can support a ton.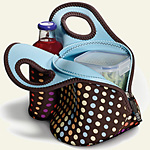 Built NY Fugu -- Medium Insulated Lunch Tote

$19.95
Made to last and designed to be reused over and over again. Built NY Fugu Lunch Totes can help eliminate thousands of throwaway lunch bags over the course of a lifetime.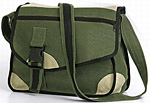 Courier Style Vegan Organic Hemp Bag

$75
This sweatshop-free product is designed and manufactured by Ecolution using locally grown organic hemp. Ecolution is based in the democratic country Romania, where it owns its own organic hemp fields and processing facility, which operate under fair trade no-sweatshop guidelines. The employees that made this product are paid more than the Romanian average, are given opportunities for advancement within the company, receive medical and pension coverage, and work in a facility that is safe, well-lit, heated, and free of toxic chemicals. Ecolution does not employ children. In addition to showing utmost concern for its workers, Ecolution products are 100% vegan, containing no products from animal exploitation such as leather or wool.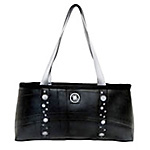 English Retreads 'Luxe' Mini

$109
Founded on socially and environmentally conscious ideals, English Retreads believes in using only cruelty-free and vegan materials in conjunction with crafty ingenuity.
• Comes with black lining and an inside zip pocket and a zipper closure
• Features a classic boxcar shape with the same colored straps
• Circular cutout designs backed in contrasting colors
• Strap colors: army green, silver or gold
• Measurements: W 13" x H 6.5" x D 2" (19" straps)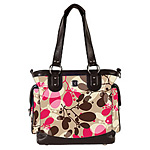 Fleurville Lexie Tote Diaper Bag in Khaki Berry Ogo

$149.95
This is an absolutely gorgeous tote. Hi glam for those new moms! Constructed from PVC-Free Green-LAM with custom hardware, "leather" trim, a seam sealed, water-proof lining, multiple pockets and comes complete with our new universal stroller attachment, the Slip Not.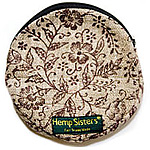 Floral Hemp Coin Purse

$9.99
Hemp round coin purse; small pocket compartment on front of coin purse; zipper closure; 6 inches in diameter.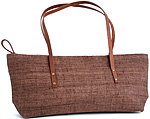 Hemp Handbag

$42
This stylish and elegant hemp purse is not your typical hemp bag. Tan, a Thai artisan from Chiang Mai designs minimalist yet practical handbags using hemp material. This down-to-earth handbag's simple boat-shape design with slim, yet durable leather straps make it an accessory that practically goes with everything in your closet. Purse is also a personal organizer, with three inside pockets including one zipper pocket. Country of Origin: Thailand. Dimensions: 13 -1/2" x 6". Includes card sharing the story behind what makes this gift special.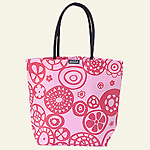 Mimi the Sardine -- Medium Modern Cloth Lunch Bag, Flower Power

$44.95
Modern Cloth Lunch Bags (Flower Power) by Mimi the Sardine are 100% lead-free and a safe, CEH recommended alternative to vinyl lined bags. It comes in three colorful designs -- flower power blue, flower power red & flower power yellow. The Lunchbug's wide zippered opening and large handles make packing and carrying easy. Safe, durable, stylish and a great value.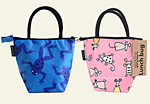 Mimi the Sardine -- Medium Modern Cloth Lunch Bag, Frogs & Mouse

$19.95
Mimi the Sardine bags are made of acrylic-coated cotton and nylon fabrics that meet the Oeko-Tex 100 Standard. Coating is plastic & PVC-free. The Oeko-Tex 100 Standard is an ecological certification. It is a declaration to consumers that the cloth does not contain chemicals & components harmful to health. All of Mimi the Sardine items are manufactured locally in the San Francisco Bay Area. They take great pride in "made-to-last" quality, produced in accordance with strict environmental laws.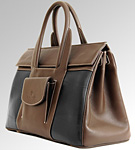 Passchal Bags made from Recycled Tractor Innertubes

Price: a lot, but worth it
Very pretty purses and bags made from recycled tractor inner tubes. The tubes are collected from several tire centers and then go through a rigorous environmentally-friendly cleaning process. The dyes are vegetable based and the bags come with an interior LED light.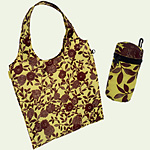 Reisenthel -- Mini Maxi Shopper Eden, Long Handle

$8.99
The Mini Maxi Shopper's name captures its finest features: compressibility and expandability. Designed in Germany, these bags are a hit abroad, especially in countries with bans or restrictions on plastic bags. Its sleek design features long handles so you can carry it over your shoulder, and it is made of rip-stop polyester for extra strength and longevity.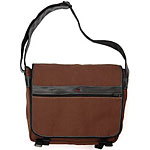 Splaff Bhoga Messenger Bag

$60
This hip Splaff Bhoga Messenger Bag is both eco-friendly and functional, with plenty of room and the right structure to keep you organized. Made from hemp and rubber recycled from bicycle tires, you'll be able to fit quite a bit in this unique bag. Center compartment is lined with scratch-resistant red vinyl and has a center divider to separate your items, large zippered pocket is under top flap for secure storage, double snap closure keeps everything closed and secure when you need it, and there's an outer zippered pocket on the front flap closure as well.


Sign up to receive our eco-friendly newsletter with tips and resources for a healthy home and sustainable environment.