Green Workplace Gifts
Shop green and eco-friendly gifts for the workplace or professional in your life. These also make great gifts for college students or graduation gifts. This list will be updated periodically, but if you notice any errors or know of a gift that belongs on this list, e-mail Green Promise at resources@greenpromise.com. Shop responsibly!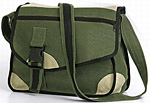 Courier Style Vegan Organic Hemp Bag

$75
This sweatshop-free product is designed and manufactured by Ecolution using locally grown organic hemp. Ecolution is based in the democratic country Romania, where it owns its own organic hemp fields and processing facility, which operate under fair trade no-sweatshop guidelines. The employees that made this product are paid more than the Romanian average, are given opportunities for advancement within the company, receive medical and pension coverage, and work in a facility that is safe, well-lit, heated, and free of toxic chemicals. Ecolution does not employ children. In addition to showing utmost concern for its workers, Ecolution products are 100% vegan, containing no products from animal exploitation such as leather or wool.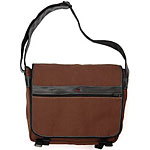 Splaff Bhoga Messenger Bag

$60
This hip Splaff Bhoga Messenger Bag is both eco-friendly and functional, with plenty of room and the right structure to keep you organized. Made from hemp and rubber recycled from bicycle tires, you'll be able to fit quite a bit in this unique bag. Center compartment is lined with scratch-resistant red vinyl and has a center divider to separate your items, large zippered pocket is under top flap for secure storage, double snap closure keeps everything closed and secure when you need it, and there's an outer zippered pocket on the front flap closure as well.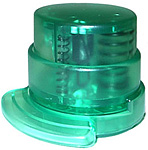 Staple-free stapler


$5.99
Staples are history! You'll never have to run out of them again. The Staple Free Stapler cuts out tiny strips of paper and uses the strips to stitch up to 5 pieces of paper together. Environmentally friendly. Safe for kids. Comes in six colors: black, blue, green, red, chrome and orange.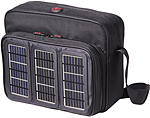 Voltaic Messenger Bag

$229
The Voltaic Messenger is reinforced and padded to carry and protect a laptop. It has large zipped pockets for documents, and multiple small pockets for electronic devices. Ideal for use in town or as a travel bag.
4 watts of solar power for fast charging
The solar panels protect fragile items inside
Included battery pack which stores power until you need it
11 adaptors for easy connection to handheld electronics
Adjustable padded laptop sleeve, for laptops with up to a 15" screen (14" x 10" x 2" or 35cm x 25cm x 5cm)
Wire channels throughout the bag for headphones, power etc.
Padded adjustable shoulder strap
Will fit the optional phone / MP3 pouch
Shell uses 600D fabric made from recycled PET (soda bottles), which is tough, water resistant and light weight.
Oversized nylon zips for extra strength

Sign up to receive our eco-friendly newsletter with tips and resources for a healthy home and sustainable environment.