Green Health & Fitness Gifts
Shop green and eco-friendly health and fitness gifts for your friends and family. This list will be updated periodically, but if you notice any errors or know of a gift that belongs on this list, e-mail Green Promise at resources@greenpromise.com. Shop responsibly!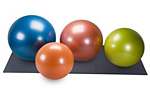 300lb Burst-Resistant Exercise Balls

$19.99
These Natural Fitness Burst-Resistant Exercise Balls are versatile in their many uses. From aerobic exercises to strength training and Pilates to yoga, the Natural Fitness Burst-Resistant Exercise Ball can be used to promote core strength for all ages and ability levels. As an added benefit, they are composed of non-toxic vinyl. This new plasticizer is safer for the user and better for the environment. Also included is a Workout DVD with fitness expert Andrea Metcalf, who guides you through both beginner and advanced workouts as well as warm up and cool down. Burst resistant over 300 lbs.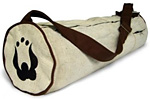 Double Zip Hemp Mat Bag

$22.99
The Natural Fitness Double Zip Hemp Yoga Bag is for yogis and yoginis who demand style and sustainability. Made from environmentally friendly hemp, a strong and durable material. The double zip opening provides plenty of room to get your mat in and out of the bag. 7" diameter x 27" long.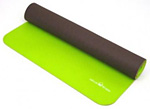 Eco-Yoga Mat

$29.99
The Natural Fitness Eco-Yoga Mat is made from TPE, a revolutionary material that contains no PVC, cadmium, lead or phthalates and is non-allergenic, lightweight and recyclable. This mat is an affordable alternative to toxic PVC mats. This mat provides a different color and texture on each side. Available in Earth/Moss only. 1/8" x 24" x 68".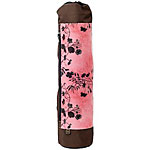 Fleurville Yoga Mat Bags, Botanical Coral Print

$40.50
The Fleurville Yoga Bag lets you carry your yoga mat in style!!! Made of Re-Run fabric keeps 3 plastic bottle out of landfills.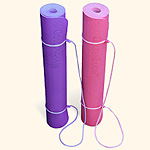 Golden Earth EnviroMat

$32.95
Free from latex, phthalates, toluene and heavy metals Golden Earth's EnviroMat will help keep both you and the ecosystem healthier. Orchids or lilies.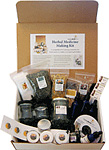 Herbal Medicine Making Kit

$67
The Herbal Medicine Making Kit includes everything you need to make your own herbal tinctures and salves so you can learn how to create your own herbal remedies. It is the first step to taking your every day health care into your own hands. The Herbal Medicine Making Kit is the only one of its kind. You will build confidence in your herbal knowledge and feel safe using them. You will start to build your own home herbal pharmacy. You also gain a foundation for herbal nutrition by learning about nourishing herbal infusions. Herbs for your first infusion come with the kit. This kit is the perfect starting place whether you want to keep your family healthy as the home medicine maker or you aspire to become an herbalist.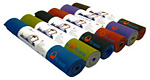 Natural Rubber Yoga Mat -- Professional

$54.99
Natural Fitness Natural Rubber Yoga Mats allow you to improve your yoga practice while achieving more environmental balance. Made from natural rubber, a biodegradable material, they offer superb traction and a high-rebound dense cushion. These mats are longer than traditional yoga mats. 24" x 69" x 3/16" thick.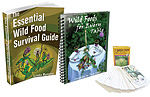 Wild Foods Pack

$34.99
This kit includes the following:

1. The Essential Wild Food Survival Guide e-book, by Linda Runyon. Formerly titled From Crabgrass Muffins to Pine Needle Tea. WE LOVE the nutritional charts for all the wild edibles.

2. Wild Foods for Every Table is a simple and inspiring wild foods recipe eBook compiled by herbalist Tina Sams, editor of The Essential Herbal magazine. It is the PERFECT companion to your local wild plants field guide. Tina got together amazingly delicious wild foods recipes from some very talented herbalists.

3. Wild Cards are an incredible wild foods reference ALSO created by herbalist and author Linda Runyon. There are 52 cards in the deck and can actually double as playing cards! They act as a mini wild edibles field guide and cover nearly every plant used in the Wild Foods for Every Table Book. Each card shows a photo of the plant and includes botanical name, other common names, what part of the plant is edible, characteristics, and uses for each part of the plant! There is also a range map that shows where you can expect to find the plant.


Sign up to receive our eco-friendly newsletter with tips and resources for a healthy home and sustainable environment.