Green Games
Shop green and eco-friendly games that would make great gifts for your friends and family. This list will be updated periodically, but if you notice any errors or know of a gift that belongs on this list, e-mail Green Promise at resources@greenpromise.com. Shop responsibly!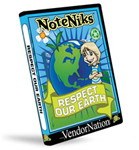 NoteNiks: Respect Our Earth Games

$19.95
This exciting collection of games teaches children (ages 5-10) the importance of protecting our earth, and being ecologically mindful of the limited natural resources. Each of the 8 games focuses on specific lessons that include recycling, smart energy usage, protecting endangered species, and much more! All wrapped around fun and age appropriate gameplay! For Windows or Mac.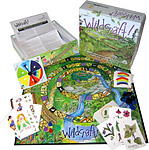 WildCraft - an Herbal Adventure Game

$24.95
Wildcraft! teaches you 25 important edible and medicinal plants and their uses in mostly first aid situations. (Wildcrafting is the harvesting of wild plants). It also teaches team work, for you will rely on each otherŐs knowledge of plants and good fortune to make it to the Huckleberry Patch and safely back to Grandma's. Wildcraft! is a great introduction to the world of edible and medicinal herbs for children of ALL ages. It's a beautifully illustrated, nature based, cooperative game created in the tradition of the classic board games.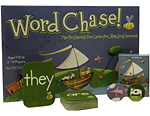 Word Chase! Eco-Friendly Board Game by Beyond Learning

$19.95
The race is on the find the "top 25" (your child's basic building block words)! Zip around the board and land on your words, then buzz back home before anyone else and you win! The game is printed with soy-based ink, phthalate-free lamination, water-based varnish on recycled paper. Age: The game is designed for children ages four and up, but also accommodates younger children who are just learning to identify letters as well as older children who are mastering strategy.


Sign up to receive our eco-friendly newsletter with tips and resources for a healthy home and sustainable environment.