Green Jewelry
Shop green and eco-friendly jewelry for your friends and family. This list will be updated periodically, but if you notice any errors or know of a gift that belongs on this list, e-mail Green Promise at resources@greenpromise.com. Shop responsibly!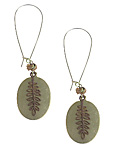 Anna Korte The Ferns Unroll Their Woolly Coils

$50
These adorable earrings are a great mixture of rustic and glamorous beauty. Wear them whether you are feeling casual in jeans and flip flops or chic in a dress and heels. They have a vintage brass tag with a fern charm that is topped with a copper love knot. They also feature gold filled ear wires. They are 3.5 inches long. Handmade. Recycled. Natural.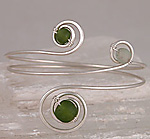 Astronomy Bangle in Forest

$42
This gorgeous wrist bangle by designer Josie Lamb adds interest to any ensemble -- casual to chic. Made with 100% recycled solid sterling silver and recycled glass beads that are fair trade certified. Made in the USA.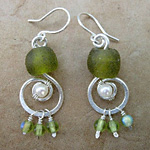 Chandelier Earrings

$29
These earrings, inspired by Moroccan tribal style jewelry feature Fair Trade recycled glass, Fair Trade Pearls, and Czech Glass Seed Beads on Sterling Silver teardrops. Total length is 1.5". All sterling silver used is 100% recycled and made in the US!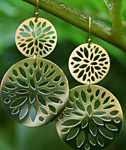 Glam Leaf Earrings

$62
These eye-catching circle earrings glam up any outfit. Remarkably lightweight with plenty of shine. Made from recycled gold fill and handcrafted in San Francisco.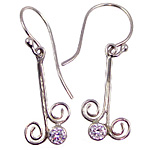 Green Earth Jewelry Diamond Swirl Earrings

$250
Ideal cut, flawless hybrid diamonds (cz combined with man-made diamond) sparkle just like the real thing! Bezel set into handmade recycled silver swirls with fair trade sterling silver ear wires. Each hybrid diamond is equivalent in size to a .25ct natural diamond. Handmade, natural and fairly traded.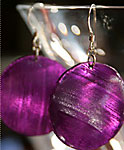 Pop Rock & Roll Earrings

$18
The cutest piece of rock history around! These fun earrings are created from shiny old records and come in a rainbow of colors. Light, bright, and colorful, they'll add a little something to any outfit. Circle diameter is 1.25" Made from old vinyl records with sterling silver earwires. Designed and handmade in Boise, Idaho.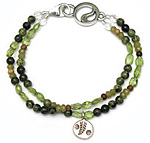 Rooted Bracelet Double Strand - Support "Trees For The Future"

$175
Rooted Necklace and Bracelet designed by Energy Muse for Shiva Rea. 10% of net proceeds benefits "Trees For The Future." Rooted Bracelet - Connection, Balance, Giving.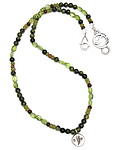 Rooted Necklace - Support "Trees For The Future"

$200
Rooted Necklace and Bracelet designed by Energy Muse for Shiva Rea. 10% of net proceeds benefits "Trees For The Future." This unique handcrafted jewelry has been cleansed using ancient techniques and energized to amplify the power and healing properties of the stones. For optimum Rooted results, wear your jewelry for 10 days straight. (It's ok to take it off at night).


Silver Brilliant Earth Diggers Pendant

$130
The highest quality Canadian conflict free diamond jewelry made with renewed gold and platinum.


Sign up to receive our eco-friendly newsletter with tips and resources for a healthy home and sustainable environment.