Green Garden Gifts
Shop green and eco-friendly gardening gifts for your friends and family. This list will be updated periodically, but if you notice any errors or know of a gift that belongs on this list, e-mail Green Promise at resources@greenpromise.com. Shop responsibly!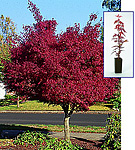 Eternitree Tree Gift

$37 - $42
The gift that celebrates life. Eternitree offers Tree gifts as an enduring way to express your sentiments. Our tree gifts will create the perfect gift for any special occasion.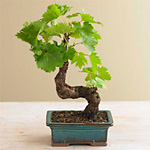 Grapevine Bonsai

$89
Trained and grown with care over many seasons, this Grapevine Bonsai produces clusters of intensely sweet Cabernet Sauvignon that are also reduced in size for a true-to-scale presentation. It flowers in spring, sheds leaves in late fall, and thrives indefinitely as a living gift.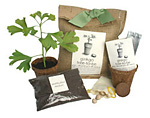 Heirloom Ginkgo Tree To Be

$35.95
The Ginkgo Biloba tree is an extremely hardy ornamental tree, virtually resistant to every kind of disease, pest and fungus. With its distinct fan-shaped leaves and lush green color, the Ginkgo tree makes any landscape beautiful whether you live in the city or country. This kit includes everything you need to successfully start and grow a ginkgo tree. An aluminum tag is provided for a personalized inscription to be placed on the tree. Prized ginkgos live well beyond one thousand years, so planting one of our heirloom trees today promises a gift for generations to come.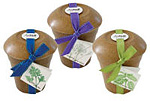 Organic Rice Hull Container Gardens -- Basil or Parsley

$15.99
Complete container gardens made from renewable rice hulls. Celebrate gardening with a lighter footprint on the earth. 100% biodegradable. Choose from organic Basil or Organic Parsley.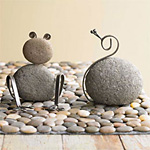 Stone Garden Frog

$34
This inventive stone-and-metal sculptor transforms snails and frogs into delightful garden companions -- whimsical ornaments that perpetually bring a smile. Great on a pathway or a front porch, even indoors.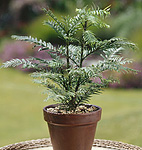 Wollemi Pine Tree Sapling

$99
Discovered in 1994, 125 miles west of Sydney in a rainforest gorge within the 500,000 hectare Wollemi National Park in the Blue Mountains. The Wollemi pine tree, thought to be extinct, belongs to the 200 million year old Araucariaceae family. Royalties from sales of the Wollemi pine tree support conservation of the Wollemi pine tree and other rare and endangered plant species. The Wollemi pine tree sapling is 10-16" tall in a 6 inch pot for US residents excluding Hawaii and Alaska. ($149 for Canadian orders; tree size is 16-24")

Unique gift for special occasions, a stunning patio and indoor plant (in well lit positions) and feature tree for parks and large gardens. Hardy in USDA Zone 7-11.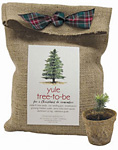 Yule Tree-To-Be

$35.95
Make the earth a little greener this year and for decades to come. This wonderful heirloom Scotch Pine holds its fragrance all season and while small can be enjoyed in a planter indoors. Sent in eco-packaging and a portion of the sale is donated to a worthy cause.


Sign up to receive our eco-friendly newsletter with tips and resources for a healthy home and sustainable environment.